Home
»
Archive by category 'Events'
Interested in Shaping Transportation Investments in Your Community? Attend August 2 Transportation for Michigan Community Forum
July 16, 2012
Please register online to attend this community forum.
Learn more about Transportation for Michigan Community Forums at trans4m.org.
Clean Energy Coalition to Host First Responder Safety Training Workshops in Grand Rapids and Dearborn
July 11, 2012
As a part of the Michigan Green Fleets program, Clean Energy Coalition will host two eight-hour Alternative Fuel and Advanced Vehicle First Responder Safety Training workshops at the end of this month.
These events are designed specifically to reduce the risks taken by first responders when responding to accidents involving vehicles powered by natural gas, propane, or electricity. These workshops are restricted to certified first responders – firefighters, police officers, and emergency medical technicians (EMTs) – who are based in Michigan.
A National Alternative Fuel Training Consortium-certified trainer will provide instruction at both workshops and all supplemental materials will be included. Breakfast and lunch will also be provided at no cost.
Participation is limited, so register early! Each individual may only register for one of the two events.
Monday, July 30, 9 a.m. – 5 p.m.
Grand Rapids Community College
Wisner-Bottrall Applied Tech. Center
Room 124
151 Fountain St. NE
Grand Rapids, MI  49503
View a Map | Get Directions
Tuesday, July 31, 9 a.m. – 5 p.m.
Henry Ford Community College
Patterson Tech. Building (S. Parking Lot)
Ghafari Room (Room Number T123)
5101 Evergreen Rd.
Dearborn, MI 48128
View a Map | Get Directions
For more information about either workshop, please contact Kristin Jobin, Program Assistant at Greater Lansing Area Clean Cities, at (517) 925-8649, ext. 10 or via email at kristin@michigancleancities.org.

Clean Energy Coalition to Join DTE Energy for Natural Gas Event in Grand Rapids June 21
June 18, 2012
Give DTE Energy two hours of your time. 
They'll give you lower fuel and maintenance costs, a cleaner fleet, and a free lunch. 
Natural gas is nature's cleanest burning fossil fuel. It's plentiful and produced domestically. It's up to 38% cheaper than diesel, and DTE Energy is committed to making the switch to natural gas vehicles easy with fueling stations popping up across Michigan.
Register now and join us on June 21 from 11 a.m. to 1 p.m. for a demonstration of the power of natural gas and the benefits of converting your fleet to natural gas vehicles.
To learn more about the benefits of CNG, visit dteenergy.com/cngevent or call (888) FUEL-NGV.
Metro Cab of Grand Rapids Celebrates Commitment to Alternative Fuel at Wednesday Grand Opening Event
June 18, 2012
Clean Energy Coalition will join 
Metro Cab of Grand Rapids
Wednesday as they celebrate their commitment to a more "green" way to travel and the recent installation of two 1,000-gallon propane tanks.
Metro Cab of Grand Rapids is leading the way in real-world, practical applications of alternative fuels. In the near future, all of Metro Cab's fleet will incorporate a bi-fuel system, allowing their vehicles to travel the majority of their miles on clean-burning propane and automatically switch to gasoline on exceptionally long trips when propane refueling is not available. The fleet's propane conversion and equipment for the propane fueling station were funded in part through Clean Energy Coalition and a U.S. Department of Energy Clean Cities Recovery Act grant.
Wednesday's press conference and grand opening event will include a discussion of Metro Cab's conversion to a propane-fueled system and feature speakers from Clean Energy Coalition, ICOM North America, and Ferrellgas.
The press conference and ribbon-cutting ceremony will be followed by a light lunch – and a chance to get "on the green" this summer by winning one of three prizes: a golf outing for four at Centennial Country Club, a set of golf club covers, or a putter cover.
Celebrate the Grand Opening of Downtown Ann Arbor's Electric Vehicle Charging Stations
June 14, 2012
Please join the Ann Arbor DDA and Clean Energy Coalition at the Forest Avenue Parking Structure Tuesday, June 19 at 1 p.m. to celebrate the installation of 18 electric vehicle charging stations in downtown Ann Arbor. With the completion of this project, the DDA can say, "We will be ready for you when you are ready for an electric car."
Speakers at this grand opening event include:
Ann Arbor Mayor John Hieftje
Sean Reed, Executive Director of Clean Energy Coalition
Susan Pollay, Executive Director of the Ann Arbor DDA
Dave Konkle of the Ann Arbor DDA
Charles Griffith, Climate & Energy Program Director, Ecology Center.
The 18 Clipper Creek electric vehicle charging stations now in place can be accessed by the public free of charge; EV owners need only pay the usual parking fees.
This project was substantially funded by a U.S. Department of Energy Clean Cities Recovery Act grant awarded through Ann Arbor-based Clean Energy Coalition. Through these installations, the DDA continues to encourage a variety of downtown transportation choices, maintain Ann Arbor's position as a leader in sustainability, and help the city meet its emission reduction goals. Electric vehicle charging stations are yet another reason for people to choose to come enjoy downtown Ann Arbor.
This event is open to the public and parking for electric vehicles is available. If you're interested in joining the celebration of Ann Arbor moving towards a healthier and more energy independent community, please join us!
Clean Energy Coalition Presents Propane Workshop in Grand Rapids June 28
June 1, 2012
Propane: Clean and Cost-Effective Transportation for West Michigan
Also known as liquefied petroleum gas (LPG), propane is a domestically produced, well-established, clean-burning fuel. Using propane as a vehicle fuel increases energy security, provides convenience and performance benefits, and improves public health and the environment.
Propane can also save you money. The fuel is less expensive than gasoline, and infrastructure costs are the lowest among all alternative fuels. Propane's high octane and low-carbon characteristics have resulted in greater engine life than conventional gasoline engines. Because the fuel's mixture of propane and air is completely gaseous, cold start problems associated with liquid fuel are reduced.
This workshop will address all aspects of propane, including: the business case for fleet conversion, fuel system and engine availability, and building the infrastructure.
Light refreshments will be provided. Attached parking is available, but space is limited so please arrive early.
Register now for this free workshop!
WHEN: Thursday, June 28 from 10 a.m. to 12 p.m.
WHERE: Sneden Hall, Grand Rapids Community College | 415 Fulton St. East, Grand Rapids, MI 49503 (map)
AGENDA
Propane Delivery and Infrastructure (presentation by Crystal Flash Energy)
Propane Fuel System and Engine Technology (presentations by ROUSH CleanTech and ICOM North America)
The Business Case for Propane (presentation by Lake Michigan Mailers)

Attend the Plug-In Ready Michigan Draft Plan Presentation June 21
May 29, 2012
The Plug-in Ready Michigan project partners have been hard at work researching best practices and compiling recommendations into a working draft of the electric vehicle preparedness plan. After a series of working group meetings and a meeting with the project's champion cities, the team will be ready to present its draft plan on June 21. Your comments and feedback during this phase of the project are important as we take another step closer to the final plan. Come help us make this the best electric vehicle plan in the country!
RSVP to attend the draft plan presentation by clicking here. 
WHEN: Thursday, June 21, 2012 | 9 a.m.-12 p.m.
WHERE: Main Auditorium at NextEnergy | 461 Burroughs Street, Detroit, MI 48202 (map)
Clean Energy Coalition Hosts Green My House: Energy Savers Edition at Jackson District Library May 14
May 7, 2012
Join Clean Energy Coalition's team of experts for Green My House: Energy Savers Edition, a workshop dedicated to helping homeowners learn about steps they can take to reduce energy use within their homes.
The best way to extend the world's energy supply — while reducing pollution, slowing climate change and lowering utility bills — is to make existing buildings more energy friendly. Today, there are more options than ever to help residents save money on energy bills, reduce dependency on fossil fuels and cut pollution. The energy efficiency experts at Clean Energy Coalition invite you to learn all about home energy upgrades.
This event will include product demonstrations, a discussion of renewable energy options, and  an overview of utility incentives, tax credits, and financing mechanisms that exist to help make homeowners' projects a reality.
WHEN: Monday, May 14, 2012 | 6:30 p.m.
WHERE: Jackson District Library – Carnegie Branch (map)
244 West Michigan Avenue / Jackson, MI 49201
Mechanics to Learn About Servicing Propane Vehicles at Free Two-Day Workshop
April 9, 2012
Clean Start Technician Training: Free Propane Vehicle Technician Training
Monday, April 30
8 a.m.–5 p.m.
Henry Ford Community College
SME Room, SME Building (map)

Tuesday, May 1
8 a.m.–5 p.m.
Henry Ford Community College
Patterson Technical Building (map)
Clean Energy Coalition, in partnership with the Clean Start Program and Texas State Technical College, is hosting a free two-day workshop for mechanics interested in learning how to service propane-fueled vehicles.
This intensive training course is ideal for mechanics, as well as fleet managers or transportation experts who have or are considering incorporating propane-fueled vehicles into their fleets.
With both classroom lectures and hands-on lab sessions, attendees will have the opportunity to learn about advances in alternative fuel systems and get a first-hand look at propane vehicles.
Topics covered at the two-day workshop include:
For full details, please the full agenda.
At the end of the course, attendees will be certified and able to perform diagnostics and repair functions on ROUSH, IMPCO, and CleanFuels LPI fuel systems.
All course materials and lunch both days are provided. Attendees only need to bring a pen and notepaper.
Advance registration is required. To help ensure everyone has an ample opportunity for a hands-on experience with the vehicles, the course will be limited to no more 35 participants. Space is limited, so reserve your seat today!
Want to let your colleagues know about this event? Share the linked flier.

If you have questions about this event, please contact Laura Palombi. 
Supported by: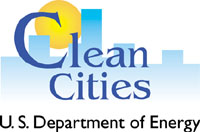 Here Comes the Sun: Western Michigan University's Solar Array and EV Charging Station Dedication April 20
April 3, 2012
Please join us for the dedication of an important new electric vehicle installation: Western Michigan University's new solar array and 15 electric vehicle charging stations. Funded by Clean Energy Coalition, this development puts Kalamazoo in the electric vehicle driver's seat in West Michigan and makes WMU one of the nation's leading campuses for EV infrastructure.
Please be there as Western Michigan University dedicates its new EV resources and showcases the University's fleet of all-electric Ford Transit Connect service vehicles and new hybrid aerial lift truck. Also showcased for visitors will be WMU's Sunseeker solar car and student race team, as well as information about campus alternative energy progress and savings. Plan to join us as well for a 2:30 p.m. Sierra Club showing of Revenge of the Electric Car  in Room 1001 of Wood Hall—located within easy walking distance of the new solar array.
Celebrate all-Michigan technology:
Electric vehicle technology by Ford Motor Co. of Dearborn and Azure Dynamics of Oak Park
Batteries by Johnson Controls of Holland
PV racking by Patriot Solar of Albion
When: Friday, April 20 at 10:30 a.m.
Where: Solar array and charging stations adjacent to the Miller Auditorium Parking Ramp on Western Michigan University's campus in Kalamazoo (map)