April 2012
Energy Assessment Discount Helps Commercial Buildings Go Green to Save Green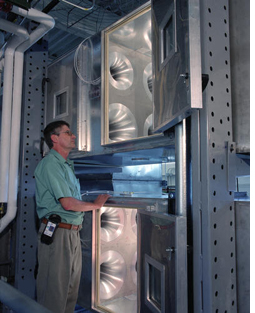 For a limited time only, Clean Energy Coalition is offering a special discount on commercial energy assessment services. Through April 30, 2012, new commercial clients can take $100 off introductory energy evaluations and 10% off technical energy assessments.

A commercial energy assessment is a terrific starting point for any organization interested in reducing energy expenses and improving its bottom line. Energy assessments provide building owners with a detailed summary of current energy use and prioritized recommendations for improving efficiency. In short, an assessment will let you know where you are today, and what you can do to realize tangible savings.

Benefits of choosing Clean Energy Coalition for a commercial energy assessment:

Cost Savings: Our audits have resulted
 in significant reductions in energy consumption – sometimes as much as 40% – and dramatic savings in operating expenses. We make recommendations for each option we identify based on return on investment and the availability of incentives and rebates.
Reduced Impact on the Environment: Boosting energy efficiency not only helps your bottom line, it's good for the environment. Energy assessments are important starting points for corporate sustainability initiatives – they outline ways companies can reduce greenhouse gas emissions and provide a roadmap for future improvements.
Unbiased, Expert Opinion: With Clean Energy Coalition, building owners can feel confident that there's no sales pitch – we have only your best interests in mind. As a nonprofit organization, we provide accurate, unbiased information and recommendations. Commercial energy assessments are conducted by our skilled and knowledgeable staff.
Personal Attention and Customized Report: Clean Energy Coalition recognizes that each client is unique, and we work closely with our clients to develop solid, actionable plans that fit their immediate needs and future goals. We stay in close contact throughout the energy assessment process, present a comprehensive review of the final report to our clients, and are available to answer questions as energy efficiency projects are completed.
As part of Rebuild Michigan, Clean Energy Coalition is conducting no-cost energy assessments for five commercial buildings in 2012. To be eligible for a free energy assessment, the facility must be located within the following southeast Michigan counties: Hillsdale, Jackson, Lenawee, Livingston, Macomb, Monroe, Oakland, Washtenaw, and Wayne. For full details and a link to the online application, please visit the Rebuild Michigan page of our website.

Make better, more informed decisions with Clean Energy Coalition's commercial energy assessments. To learn more, visit cec-mi.org or contact Joel Baetens.



Fuel Forward Service Provides Fuel-Saving Strategies for Fleet Managers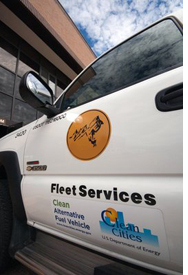 Clean vehicles make good business sense. They can help reduce petroleum consumption, achieve sustainability goals, and make your business more attractive to environmentally conscious customers. Fleets across the country are looking to make the switch to alternative fuel vehicles, but many organizations don't know how to determine the best approach for greening their fleet.


That's where Clean Energy Coalition comes in. We're proud to launch Fuel Forward, a new service for small- and medium-sized commercial and municipal fleets. With Fuel Forward, our team of experts assesses current fuel consumption patterns and provides recommendations for reducing costs and incorporating alternative fuel technologies. To help optimize efficiency, we also create programs to educate drivers about best practices and behavioral changes they can make to further reduce fuel costs and help extend the life of fleet vehicles.

Drawing on our track record of deploying alternative fuel vehicles as part of the U.S. Department of Energy's Green Fleets program and our experience administering three Clean Cities coalitions, our knowledgeable team is in a unique position to provide objective guidance and sound recommendations. There's no hidden agenda — our goal is simply to help organizations make economically sound and environmentally responsible fleet management decisions, implement change, and measure results.

With Fuel Forward, fleet managers can depend on a team of experts to deliver the tools and resources needed to optimize vehicle efficiency and improve your bottom line.

For more information about Fuel Forward and to view sample reports, visit cec-mi.org. To learn more, please contact Laura Palombi.



Clean Energy Coalition Honored with Two Awards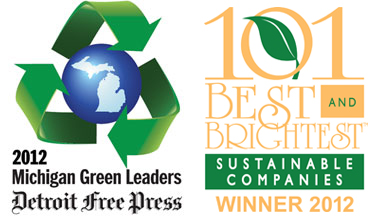 The Clean Energy Coalition team recently learned that we're being honored with two awards. Earlier this month,

Detroit Free Press

named us one of their Michigan Green Leader Award winners for 2012. Our organization was also named as one of this year's 101 Best and Brightest Sustainable Companies™.


Detroit Free Press Michigan Green Leader Awards honor individuals, businesses, and organizations "moving the state forward in innovation, job creation, sustainable development, community advocacy, conservation and more." Clean Energy Coalition is being recognized for its "range of efforts promoting clean technology."

The 101 Best and Brightest Sustainable Companies™ program celebrates organizations that "inspire and produce green technology to impact the industry and environment."

"We're deeply honored that Clean Energy Coalition has been selected for these awards. They're terrific recognition of the work our staff is doing every day to promote clean energy, accelerate change, and build healthier communities," said Sean Reed, founder and executive director of Clean Energy Coalition.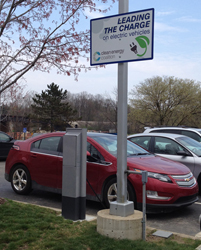 Clean Energy Coalition Installs Two Electric Vehicle Charging Stations

With the help of Clean Energy Coalition stakeholders McNaughton-McKay, Eaton Corporation, and Delta Power Systems, we recently installed two electric vehicle charging stations in our parking lot.

Thanks to the new charging stations, our two Chevy Volts are always powered up and ready to go. With a battery range of approximately 25­–50 miles, we're able to reach many destinations in southeast Michigan without using gasoline.




Snyder Calls BetterBuildings for Michigan 'A Great Win'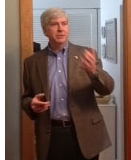 Earlier this month, Michigan Governor Rick Snyder toured a home in Traverse City that has undergone significant improvements to help improve its energy efficiency.

The home is part of BetterBuildings for Michigan, which uses a community approach to deliver energy efficiency improvements by providing access to incentives and affordable loans.

The program kicked off 14 months ago, and Snyder has declared it a "great win" for energy and the environment. Clean Energy Coalition is coordinating energy assessments and efficiency upgrades in five communities throughout the state, including Traverse City.

"Energy efficiency is the best place to start," Gov. Snyder said. "This kind of work… creates jobs. This is something that will spread," he added. "I hope it spreads around Traverse City, the region, hopefully all across Michigan. Because we all benefit."

For details about Snyder's visit to Traverse City and his comments about BetterBuildings for Michigan, check out this article from Michigan Land Use Institute.



Development and Marketing Manager Joins Staff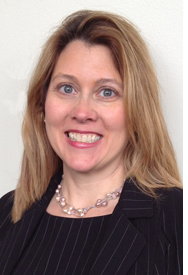 Clean Energy Coalition is proud to welcome our newest staff member: Andrea Ash.

Andrea Ash manages development and marketing for Clean Energy Coalition. She is charged with creating and implementing a diversified development program for long-term sustainability.

Ms. Ash has more than ten years of experience in fundraising for a variety of industries including higher education, humanitarian issues, and health care. Prior to joining Clean Energy Coalition, she served as the regional director of development for the American Red Cross, Southeastern Michigan Regional Chapter. Before that she led the annual fund and membership program at Cranbrook Institute of Science and spent several years fundraising at various organizations in the Chicago area.

Ms. Ash recently earned her Certified Fund Raising Executive certification. In addition, she holds a master's degree in public administration from DePaul University and a bachelor's degree from the University of Michigan-Dearborn in communications and political science. She currently serves as vice chair of the University of Michigan-Dearborn Alumni Society Board.

Upcoming Events
Thursday, April 12: Rebuild Michigan Stakeholder Meeting: Lowering Energy Costs and Leveraging Incentives
Attend this workshop to learn more about the Rebuild Michigan program, including how your business can receive a no-cost introductory energy assessment, building energy upgrade trends, the business case for making improvements, and ways to pay for your project. Pre-registration is required for this event.

Thursday, April 12: Western Michigan University's Solar Array and EV Charging Station Dedication
Join us for the dedication of Western Michigan University's new 50 kW solar array and 15 electric vehicle charging stations. Funded by Clean Energy Coalition, this development puts Kalamazoo in the electric vehicle driver's seat and makes WMU one of the nation's leading campuses for EV technology use.

Wednesday, April 18: Green My House: Energy Savers Edition
We're bringing our popular workshop on home energy upgrades to Saline District Library. Pre-registration is required for this event. Please email leslee@salinelibrary.org or call (734) 429-2313 to reserve your spot.

Thursday, April 19: Propane or Compressed Natural Gas: Which Is Best for My Fleet?
Propane and CNG both offer a compelling case for fleets looking to reduce the cost and environmental impact of their operations. Join us to learn more about these alternative fuels and to see if they might be a good fit for your fleet.

Friday, April 27: 2012 Michigan Green Leader Awards Breakfast
Detroit Free Press will honor Clean Energy Coalition and the other 2012 Michigan Green Leaders at its annual awards breakfast and Green Expo at MGM Casino & Hotel Ballroom.

Sunday, April 22: Ann Arbor Area 42nd Annual Earth Day Festival
Nearly 50 local nonprofit environmental organizations provide information, family entertainment, and hands-on activities at this popular event hosted at Leslie Science & Nature Center.

Thursday, May 10 and Friday, May 11: 2012 Good Jobs, Green Jobs Midwestern Regional Conference
The nation's leading forum for building a green economy and creating good, green jobs is coming to Detroit.

---
Hey, Ann Arbor! Share Your Energy Efficiency Stories with a2energy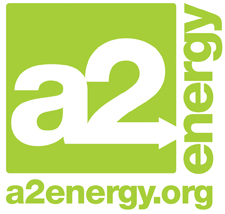 Have you made your Ann Arbor home or business more energy efficient? Want to share your story with others? Become an a2energy "e-peep" and you will be eligible to win a FREE whole-home energy monitor ($129 value)! Complete this brief online form or contact Allison Skinner to get started.

---
We Recommend:
Faucet Aerators
Save 10% on Clean Energy Outlet Purchases Through April 30



Inexpensive and easy to install, faucet aerators can cut water consumption in half. But they're not just a choice that's good for the environment and good for your wallet — aerators also improve water flow, deliver a strong spray, and reduce the demand for hot water.

Clean Energy Coalition Project Manager Bonnie Bona recently tried faucet aerators in her home. She reports, "My husband was very skeptical, but after we installed them we've found that we like the flow – both spray and pressure – better with the aerators than without."

Try a faucet aerator and see what you think! Through April 30, use the coupon code SPRING10 and take 10% off purchases at the Clean Energy Outlet online store – including faucet aerators.

---
Newsletter Sponsor
Chelsea Lumber
is one of the oldest and largest lumber and building supply companies in Michigan. With the recent acquisition of the Bridgewater Lumber stores in Saline and Bridgewater, Chelsea Lumber now has three locations and nearly 140 employees to serve you. More than ever before, Chelsea Lumber is a vital resource for "do-it-yourself" homeowners and building contractors throughout Washtenaw County and Southeast Michigan. Their customers come from Ann Arbor, Jackson, Lansing, Plymouth, the Detroit area, and more.




Clean Energy Coalition
924 North Main Street, Suite 2
Ann Arbor, MI 48104
734.585.5720 t
734.418.1681 f
cec-mi.org