Clean Energy Coalition Unveils Highland Park Project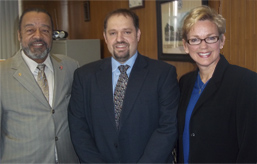 From left to right, Highland Park's Mayor Hubert Yopp, CEC's Executive Director, Sean Reed, and Michigan's Governor Jennifer Granholm


Earlier this month, Michigan's Governor Jennifer Granholm announced a $232,000 grant that will be used to help restore Highland Park's landmark McGregor Public Library. Joining Governor Granholm at Highland Park City Hall was Mayor Hubert Yopp, Michigan State Housing Development Authority (MSHDA) Deputy Director Burney Johnson, CEC Executive Director Sean Reed and CEC Division Managers Jenny Oorbeck and Joshua Brugeman, along with other local officials.
The grant is part of Michigan's Cities of Promise initiative, started in 2006 to help Michigan's eight most distressed cities by bringing together resources to assist each municipality with community restoration and economic development. Each of the eight Cities of Promise has identified a signature project to serve as a public symbol of the city's redevelopment. The $232,000 CEC grant will be used to upgrade existing lighting in Highland Park's McGregor Public Library, both with natural and energy-efficient lighting technologies.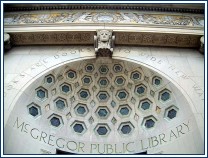 From 1926 until its closing in 2002, the McGregor Library was a centerpiece for the community. Hardships and economic instability led to the library's closing, but it is currently undergoing a $9.3 million restoration.
According to MSDHA Deputy Director Johnson, "The McGregor Library signature project is a prime example of how the Cities of Promise initiative has helped showcase a major historic southeast Michigan treasure. I applaud the efforts of Highland Park's leaders for their vision and for working together to produce the right ideas that help build stronger local economies and communities."
For more information on Cities of Promise, visit CEC's website.
New Logo and Structure Released

Clean Energy Coalition is excited to announce its reorganization to best serve our growing projects and partnerships. With three official divisions - Clean Energy Structures, Clean Energy Communities, and Clean Energy Mobility - our organization is more efficient and better prepared to meet the changes and challenges that come from creating healthier, more energy independent communities.
Leading the charge is Josh Brugeman, Clean Energy Structures division manager, who now leads building-related projects; Jenny Oorbeck, Clean Energy Communities division manager, who heads various local government projects; and Matt Sandstrom, Clean Energy Mobility division manager, who facilitates clean and advanced fuels projects.
These divisions - and their goals - are closely aligned with our new logo and tagline. Not only is our new logo clean, modern and distinctive, it tells two important stories. The tagline Bridging Needs. Advancing Change. explains succinctly what we do, while the stylized C - with its color shift from brown to blue - shows that we take individual elements and unite them into a concrete plan.

Clean Energy Coalition's team is proud of the new look and we hope you like it, too. You will see it rolling out almost immediately in our printed materials, presentations, and newsletters, followed by a new website in 2011.
Over time, we plan to make the Clean Energy Coalition logo one of the most recognized symbols in the field and a symbol for excellence in program design and execution.
CEC Leads West Michigan Clean Cities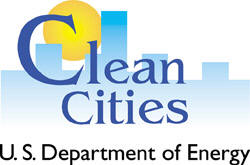 Clean Energy Coalition has added a third Clean Cities Coalition to its Clean Energy Mobility network. With Michigan's entire Southeast Michigan Council of Governments (SEMCOG) region covered by Ann Arbor Clean Cities and Detroit Area Clean Cities, West Michigan Clean Cities (WMCC) is supported by a grant from the State of Michigan Department of Energy, Labor, & Economic Growth (DELEG).
WMCC provides a forum for members to share information, leverage their resources, develop joint projects, collaborate on public policy issues, and promote AFVs in West Michigan. As the new WMCC Coordinator, CEC will develop new petroleum displacement projects and partnerships in the 11 counties that make up the West Michigan Clean Cities Coalition.
Clean Energy Coalition's comprehensive efforts, combined with support from the State of Michigan, will reignite this formerly dormant Coalition. Central to the first year operating plan is to secure official designation as a Clean Cities Coalition from the U.S. Department of Energy.
For more information, please visit our website.
Michigan's Newest Energy Demonstration Site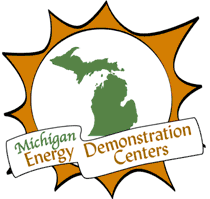 The State of Michigan has eight Energy Demonstration Centers (EDC) located throughout the state to promote energy efficiency, renewable energy, green building and sustainable living solutions for Michigan residents and businesses. Clean Energy Coalition - located in Depot Town, Ypsilanti - was recently named an official EDC from Michigan's DELEG.
Clean Energy Coalition has both a retail and educational space, offering examples of retrofitted projects as well as stocked energy and conservation products. Consumers, contractors, and business owners can access resources and products in order to decrease their energy use, improve their efficiency, and increase their use of clean energy.
Location
44 East Cross Street in Ypsilanti, Michigan (map)

Hours
Monday - Friday • 12 - 5 pm

Contact
To learn more, email Deb Heed or call (734) 483-9000
Newsletter Sponsor


Clean Energy Coalition is accepting newsletter sponsors and other financial supporters.
Since its incorporation five years ago, CEC's efforts have resulted in over 732 billion BTUs of renewable energy used or energy conserved. As a stakeholder or year-end contributor, you or your organization will support innovative programs and activities that reduce our dependence on fossil fuels.
For more information, contact us today!
Follow Us!




Energy Tips Q&A

Winter is an excellent time to get a home energy audit. If your home has uncomfortable drafts or cold spots, consider scheduling an audit with one of CEC's trained and professional inspectors. To get right to the source, Robyn Skodzinsky asked Nick Helmholdt, CEC's certified HERS rater, the following questions:
RS: It's been a year since you joined CEC's team performing home energy audits. What is the most common energy waster you see in people's homes?
NH: In almost every house I find a leaky attic access. If your access hatch doesn't have a good gasket and a tight fit, then cold air is getting into your house. As you can see from this picture, the conditioned air in this house is about 70 degrees, but the air leaking in through the attic hatch is about 40 degrees.

RS: How should someone solve this problem?
NH: First, make sure the top side of your hatch is insulated with fiberglass or rigid insulation. I would install rubber weatherstripping that compresses when the hatch is closed. You can add an eyehook to latch down the hatch for extra tightness.
RS: In your experience, what product upgrade provides the fastest return on investment?
NH: I'm always surprised how much a low flow showerhead can save over the course of a year. For about $20, you can usually cut down your use of hot water by 10 gallons per shower! If you don't have a 1.5 GPM showerhead, it's a great way to cut down your water heating costs and put money back in your pocket.
RS: Wow, that's a lot of water! You visit a lot of homes each year; what do you enjoy most about auditing?
NH: I enjoy teaching people about all the ways that they can cut down on energy use. Our infrared scan almost always shows our clients where they can make improvements to save energy. I also like crawling around attics and checking insulation!
RS: As one of your audit clients, I can honestly attest to the thoroughness and helpfulness of your report. If someone wants to schedule an audit, what's the best way to reach you?
NH: The best way to reach me is by email; you can call me at 888-818-0987 ext. 709. I'd be happy to talk about your home's energy needs and set up a time for an audit or home energy consultation.