CEC Case Study: Air Leakage

Matt & Kelly Grocoff, founders of Greenovation.TV, own a 110 year-old home in Ann Arbor's Old West Side Historic District. The Grocoff's Folk-Victorian home had sixteen original, single pane, wood frame windows installed. They knew that the windows were a major source of cold, wintry drafts that made the house uncomfortable.
GreenovationTV and Clean Energy Coalition were interested in understanding how repairs to original wood windows would affect air infiltration in old homes. CEC performed a blower door test before and after the repairs to the Grocoff's windows.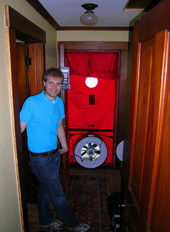 At the time of the first test all of the original windows were installed. Under normal conditions, just over 100% of the air in the Grocoff house was replaced with outdoor air every hour. These figures describe a house that has high, uncontrolled air infiltration.
A second blower door test was performed after the wood window repairs that included reglazing, wood sash repair, weatherstripping insulation, and hardware repair or replacement. The combined effect of the storm windows and the repaired windows resulted in a 69.8% reduction in air leakage. It is clear that the wood window repairs performed resulted in an impressive air infiltration reduction.
This case should be evidence that repairs to windows may be a potential energy-saving measure to consider for homes in historic areas. What's more, added storm windows further reduced infiltration.
Want to hear more? Listen to this NPR story. Interested in having a blower door test and energy audit on your home? Contact CEC Project Manager Nick Helmholdt.
Learn & Connect: Upcoming Events

The U.S. Department of Energy will soon approve its 2011 budget for alternative fuel vehicles and infrastructure. The proposed budget includes $20 million for electric vehicle charging infrastructure. To learn about these federal funding opportunities, level 2 and 3 charging infrastructure, and to receive technician training for your fleet, dealership, or service center, join Detroit Area Clean Cities on Thursday, October 7 from 10:30am - 12:00pm at Macomb Community College's Center for Alternative Fuels (Building K, Room 324, map). The meeting is free and open to the public; RSVP to Robyn Skodzinsky.
Join us on Wednesday, October 13 from 9:00am - 12:00pm for the Clean Fleet Technology Forum at UM-Dearborn Fairlane Center (Room D, map). Sponsored by Southwest Detroit Environmental Vision, the Michigan Diesel Clean up Campaign, Clean Water Action, Clean Energy Coalition, and DTE Energy, the event will provide information on alternative fuel technologies, alternative fuel options, idle reduction strategies, and grant programs that help pay for equipment upgrades. The event is free and open to the public. RSVP to Sarah Lang at Southwest Detroit Environmental Vision.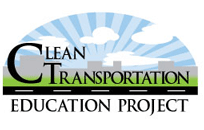 Learn How Biofuels Will Revolutionize American Transportation on Thursday, October 21, 2010 from 8:00am - 4:30pm. The two half-day biofuel workshops will take place concurrently at Weber's Inn (3050 Jackson Avenue, Ann Arbor). Both workshops are free; attend lunch and networking for $15. Secure registration is available online.
Rebates Offered for Programmable Thermostats

For their customers, DTE Energy is offering a $20 rebate for programmable thermostat purchases through 12/31/10 (or until funds run out). Homeowners can save about $180 a year by properly setting their programmable thermostats and maintaining those settings, which are intended to deliver savings without sacrificing comfort.
CEC's Energy Outlet has several different programmable thermostats available for purchase. You can get both your thermostat and your rebate application at the Energy Outlet, plus any help you may need with the paperwork.
Questions? Contact CEC Project Manager Deb Heed.
Newsletter Sponsor


Based in Livonia, Michigan, "The Art of Performance Engineering" takes place at ROUSH Performance. The vehicles and components produced by ROUSH are imprinted with passion for performance and commitment to excellence. Moreover, ROUSH propane-powered vehicles offer significant reductions in greenhouse gas emissions compared to gasoline and diesel fueled vehicles.
For more information on ROUSH, please visit their website, blog, or get a look behind the scenes at ROUSHtv.com!

Follow Us!




Energy Tips

According to ENERGY STAR - the joint program of the U.S. DOE and U.S. EPA - heating and cooling bills can be reduced by up to 20% with proper sealing and insulating. The following answers to common sealing and insulating questions provide some great energy tips:
*New insulation can be added on top of old insulation, but care should be taken to ensure to old insulation has never been wet. Wet insulation should be removed and the moisture source should be located and fixed. Mold, mildew, and ceiling and rafter rot can all result from wet insulation.
*Common basement air leaks are located at the top of the basement wall where the foundation comes in contact with a home's wood frame. Unfinished basements allow occupants to easily seal these areas. Other basement leakage sites include plumbing entrance sites and around furnace flues.

*Common attic air leaks are often found where the walls meet the attic floors. Need an easy indicator? Look for dirty or discolored insulation; this shows that air is moving through the insulation material.
*Attic insulation should reach R-38, which is about 12-15 inches of insulation, depending on the type. More insulation is recommended for Northern climates, which should insulate up to R-49.

To learn more, visit ENERGY STAR's website.