Plug-In Ready Michigan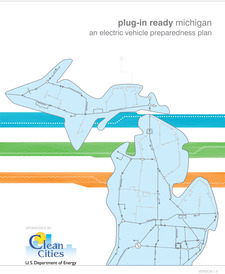 Download the Plan (.pdf)
Plug-In Ready Michigan | Appendices
In the fall of 2011, Clean Energy Coalition was selected by the United States Department of Energy (DOE) to work with a coalition of more than 40 regional project partners to create an electric vehicle infrastructure readiness plan for Michigan.
Since the launch of this project, Clean Energy Coalition has been working with project partners, NextEnergy and Greater Lansing Area Clean Cities (GLACC) to identify existing barriers and opportunities related to planning, zoning, codes, permitting, and utilities. As part of this effort, the team held a series of stakeholder meetings, completed a Michigan-specific forecasting study, and conducted a survey of Michigan's municipalities to help gauge the level of awareness and on-the-ground readiness for electric vehicle deployment.
Plug-In Ready Michigan provides the necessary information and tools to planners, local officials, consumers, and private enterprises to prepare for an increase in plug-in electric vehicle use.
Media
Concentrate: Building a Plug-In Electric Vehicle Community (August 2012)
Spinal Column: The Market for Hybrid, Electric Cars Revs Up (November 2012)
WEMU-FM: Ann Arbor a Plug-In Electric Vehicle Leader (November 2012)
Program Contact Information
Mark Rabinsky
Project Manager
734.585.5720 x24
mark@cec-mi.org
Heather Seyfarth
Program Supervisor
734.585.5720 x21
heather@cec-mi.org